Black leather lace boot /

€ 269,95
incl. VAT
---
Elegant black leather lace shoe finished with cobalt blue colour accents. The shoe has a classic look.
---
Ordered before 17:00, shipment same day

Free shipping from € 100,-
Free returns in Belgium
Ordered before 17:00, shipment same day

Free shipping from € 100,-
Free returns in Belgium
Add to Cart
Size out of stock?
Send me an email if this article becomes available in my size. You always get an e-mail within two weeks, also in the case that your size will not be available soon.
Oops! Something went wrong with your request. Please try again later.
We already have a notification request from you for this size.
Please select your size.
Thank you for your request.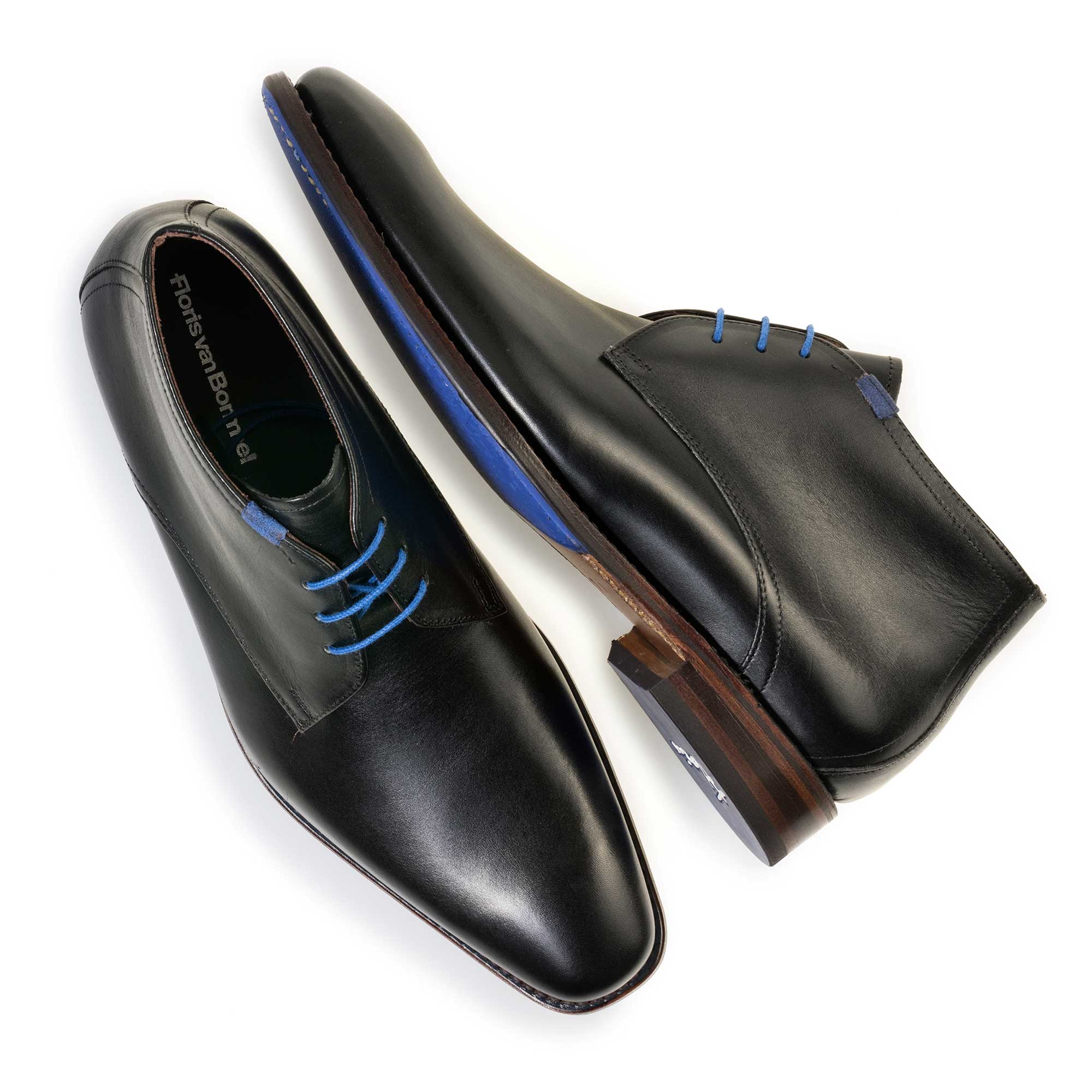 Floris about this shoe:

For this shoe, we still apply the colour variations in our production plant by hand. One might think that this should be fairly easy for a black pair of shoes. But this isn't always the case. Precisely because you can't add more character using colour effects on a black shoe, the type of material and finishing treatment become even more important. The right type of glossiness, the fineness of the leather's texture (pores, hairline), the thickness of the leather, the right tanning, and the calf's age are crucial aspects when it comes to black shoes. Apart from buying the right materials, treating the black leather in our 'finishing department' plays a very important role. For instance, we use something similar to a mini clothes iron to iron the shoe's leather. The heat generated by the iron causes the leather fibre to contract and the texture closes a little bit which creates a beautiful, silky shine. Depending on the type of leather, our finishing department is also equipped with a hot air cannon, a flame thrower, various kinds of waxing and grinding brushes, a spraying booth and polishing rags in order to make the greatest black pair of shoes there is.

Product information
Elegant lace boot
Black calf's leather
Decorative stitching on the sides
Electric blue suede leather colour accents on the vamp
Electric blue laces made of waxed cotton
Cobalt blue rubber sole with an animal print
The heel is made of several layers of leather
Width H
Shoe last 137
Matching belt: 75046/01
Matching cleaning and care products: Carbon Wax